You've probably heard stories about contractors who leave work sites in complete disarray, but this isn't the norm by any means, and it's certainly not what you should expect if you hire professionals to do your window replacement project. All jobs are different, of course, but here are some general tips to help keep your home or office clean during window replacement.
Why Windows Need Replaced
Before we dig into what the window replacement process is like, let's dig into why homeowners may need to replace their windows in the first place. The two most common reasons are if your current windows have exceeded their lifespan or you are moving into a new home and want different style or updated windows. Windows tend to deteriorate over time, when it's time for them to be replaced, there are many factors that go into making that decision.
If you have decided that replacing your windows is right for you, it's probably time for a look at some of your options. Many homeowners choose vinyl or wood windows because they have energy efficient ratings and are fairly low-maintenance. There are other options as well like aluminum framed, double hung and casement windows just to name a few.
The cost of new windows will vary based on your options, as well as your location. Window replacement costs between $300 and $2,100 per window. This can range depending on where you live and what type of materials you choose. It's important to note that some homeowners may be eligible for tax credits or rebates that would reduce their cost even further. Additionally, when it comes time to have your installation done by a professional company.
Prep Work
Before you begin a window replacement project, it's important to properly prepare your home and workspace. If you don't prepare yourself in advance, your replacement project could turn into an inconvenient disaster.
For example, before you begin removing your old windows, you should make sure your home is protected from dust and debris. This means covering carpets, furnishings and floors that could get damaged. Your replacement project will require a large workspace, so you should also remove everything that isn't necessary for the installation of new windows.
If you want to protect your home and your new windows, it's important that you take steps in advance. When preparing for a window replacement project, be sure to clear out any and all unnecessary items from your workspace so that you won't risk damaging anything else. You should also cover flooring, carpets and furniture with protection before removing existing windows. This will help ensure a safe and clean window replacement project for you and your family.
Removal and Storage
If you are having your windows replaced, it is likely that some of your existing windows will be removed and stored for a time. Usually, these windows can stay in place during weather extremes such as severe storms or blizzards; if there's a chance of more severe weather coming during your window replacement, these window may need to be brought inside until work on your home is completed.
How long your windows will be stored will vary by company. Some homeowners prefer storing them where they are so that it's easier for their contractors to install their new units on site, while others prefer keeping their old windows in storage or a garage until they have an opportunity to use, sell, or toss them.
Installation
Installing replacement windows is really not too difficult, but there are a few things you can do to ensure your experience is as smooth as possible. The first thing you need to do before beginning any work on your windows is make sure you have enough space for your contractor and his or her team. If a home project requires some furniture rearranging, go ahead and take care of that before he or she arrives.
The installation process is pretty simple. After removing the windows installation will be done by a professional in a matter of hours, or a few days, with all new insulation and hardware, so you won't have to worry about anything leaking or breaking down on you. Just make sure that any furniture that has to be moved back in is carefully placed back where it belongs so nothing gets damaged during re-installation. If a bit of furniture must be removed for your contractor to get his work done, lay out some drop cloths and sheets to catch any wood splinters or other waste. When working with an expert you can rest assured that there won't be very much cleanup for you to do once he finishes up; generally speaking, those professionals who install replacement windows are pretty good when it comes to cleanliness.
Clean Up
When you hire professionals to do your window replacement, they will use caution while taking out old windows and installing new ones. They'll cover doorways and put down drop cloths on your floors. If there is glass, they'll take it outside. This means that when you come home from work at night, you can relax in a space that doesn't look like a construction zone.
While window replacement isn't as disruptive as some of your other remodeling projects, it is wise to set aside a few hours for cleanup. Contractors should clean up any residual dust and debris so you don't have to look at it later on.
It's always a good idea to have trash bags and a broom on hand. Cleaning up your living space after window replacement won't take long, but it will be much easier if you prepare for it beforehand.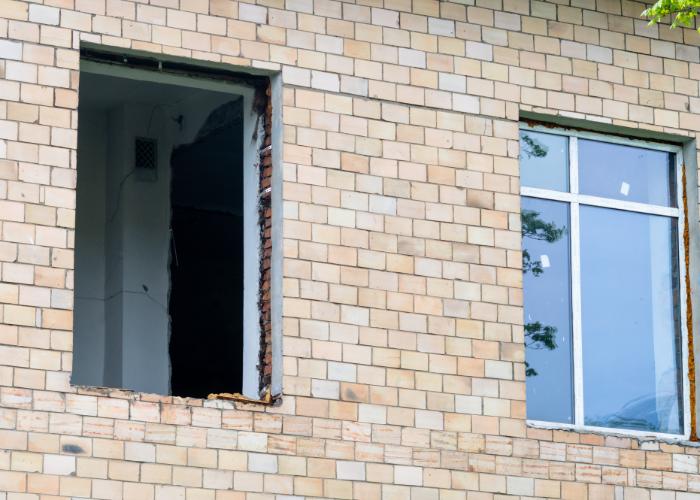 Bonus Tips
If you're looking for more information about getting old windows removed, we've provided some general tips below. Keep in mind that as a house gets older, particularly older than 100 years, removing old windows can be dangerous and should only be done by an experienced professional.
While most homeowners don't have to worry about their windows being so old that they're dangerous, many are still worried about how much of a mess is created. The good news is, most replacements won't require you leave your home for longer than a day.
If you do plan on leaving your home for an extended period of time, make sure you let a trusted neighbor know when you'll be gone and have them check in occasionally.
When you require window replacement, call the experts at Denver Window Replacement Pros!