The cost of a door replacement in Denver CO is an important investment for your home, as strong and solid entryway doors provide security and added insulation for your home's interior. A front door replacement in Denver also adds curb appeal to your home in an instant!
While new door installation in Denver costs typically run anywhere from $200 to $500 or more, you might note some vital reasons why those doors should be replaced when needed. It's also good to consider some tips on choosing the right entryway and storm doors for a Denver home, and why new door installation is not a DIY job! You can then discuss this information with a contractor as needed and ensure you end up with new entryway doors, screen doors, storm doors, and patio doors in Denver that you'll love for years to come.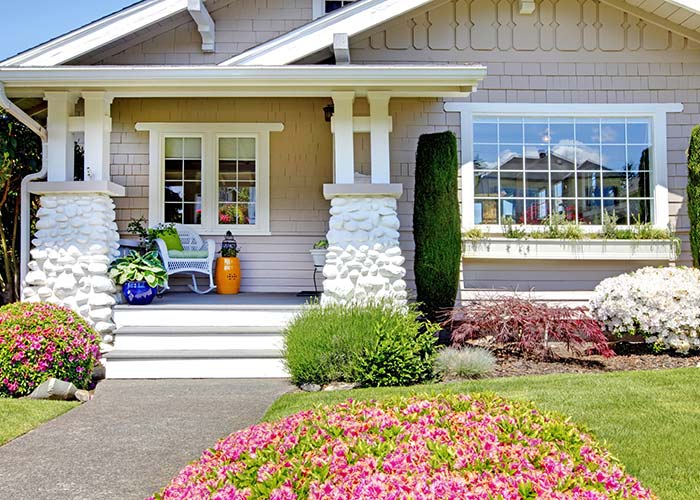 Figuring Your Door Replacement Cost in Denver
Your Denver door installation costs will be affected by a variety of details, but most especially the features you choose for your new entryway door! Note some features about various front and back door options and their pros and cons, so you can choose which are best for your home and worth your door replacement cost Denver.
Steel doors have tight frames that provide added security, not allowing an intruder to wedge a pry bar between the door and frame so easily! Steel doors also resist shrinking, cracking, and other damage no matter the weather exposure but they are often more expensive than other materials.
Fiberglass front doors are lightweight but very durable and also resist chipping, cracking, and other damage. A fiberglass door installation in Denver might have a wood grain front for an attractive look, while typically being lower in cost than other options.
Wood doors are strong and durable and help insulate a home's interior, but wood does tend to fade, crack, and buckle after prolonged exposure to sunlight and harsh weather conditions. However, the overall look of real wood and the ability to repaint the door over the years makes them a favorite choice for homeowners.
Entryway doors with decorative glass inserts, added guards around the edges, thick foam inserts and other such details that provide a better appearance and increased insulation are often priced higher.
Choosing New Storm Doors for a Denver Home
Along with entryway doors, you might consider new storm doors for a Denver home. Today's styles of screen and storm doors provide added security for the home's interior and extra insulation even while the entryway door is open. Today's storm doors in Denver also provide a wealth of options you might not realize existed, including a 3-point lock system that makes it difficult for someone to break into the home and for young children to get out!
Five-hinge systems are also an excellent option for Denver storm doors, as the added hinges take some of the wear and tear away from the standard three hinges, prolonging the overall lifespan of the door. Blinds between two panes of glass also offer you the option of added privacy but without the security risk and hassle of cords. Overlapping edges also provide added protection against outside heat and cold and security against break-ins.
Storm doors in Denver also offer various views for their glass inserts. Full view doors have long, top-to-bottom glass while mid-view doors have a solid panel along the bottom of the door. These solid panels are an excellent choice for homes with pets who might push their noses up against the door and leave dirty streaks on glass. High-view doors have very tall lower panels that offer maximum privacy inside the home.
Why Choose High-Quality Door Replacements in Denver
High-quality name brands such as Anderson doors in Denver are often a bit pricier than doors you buy at a hardware store, but that quality is often worth your investment! Name-brand doors tend to fit their frames more precisely than cheaper doors, allowing for fewer gaps around the door itself and better insulation. High-quality locks, hinges, and deadbolts on name brands such as Anderson doors for Denver homes add to their overall safety and security.
Many name brand doors also come with a longer warranty than off-brand, cheap entryway and storm doors for Denver homes. You can then choose those quality doors no matter your door replacement costs in Denver and know that they won't warp, chip, crack, hang crooked, or otherwise sag and lose their appearance over the years!
Adding Security With a Door Replacement in Denver
If you're very concerned about home security, keep in mind that your entryway door is still a favorite point of entry for thieves and intruders. A strong person can often kick in a thin and lightweight door or force open its locks, and simply yank open flimsy screen and storm doors. Opting for a few added safety features ensures that your home is protected as much as possible.
For example, note the glass of a storm door for a Denver home and choose thick safety glass that cannot be shattered easily. For screen doors, choose steel rather than aluminum so it cannot be bent out of position and opt for a small mesh that doesn't provide space for a lock picking tool. A 3-point lock on any door, as mentioned, also provides added security for the home.
Choosing a Denver Door Replacement Contractor
One reason that door replacement in Denver is not a DIY job is that many doors are installed with an attached frame, to ensure the door fits snugly and securely. Frames tend to become warped over time so if you need a door replacement in Denver, it's usually good to buy a new frame as well.
A door and its frame are both very heavy and cumbersome to manage and must be installed level and even, to ensure the door can swing open freely and close properly. Improper installation might compromise the integrity of the frame, allowing it to sag and making it easier for intruders to pry or even kick open the door!