A new door installation is a great way to improve home security and your property's overall curb appeal. Old and worn entryway doors make an entire home look rundown and dingy, and allow in outside heat and cold. A new door installation is often just what you need to add style to your house while also providing a more airtight seal around the doorframe.
Exterior door installation costs might average from $500 to over $2000. These doors are far more expensive than interior doors as they must be solid and secure, withstanding potential break-ins and harsh weather conditions while providing added home insulation as well.
Never put off needed door replacement for your home, as entryway and patio doors are more important for your comfort and security than you might realize. To help you decide the right door style and material for your house, you might note some added details about today's standard options and why an upgrade is the right choice for you.
It's also helpful to note signs that it's time to shop for new entryway doors! You can then discuss your needs with a door replacement company as needed, and know that your home is well-insulated, secure, and looking its best both inside and out.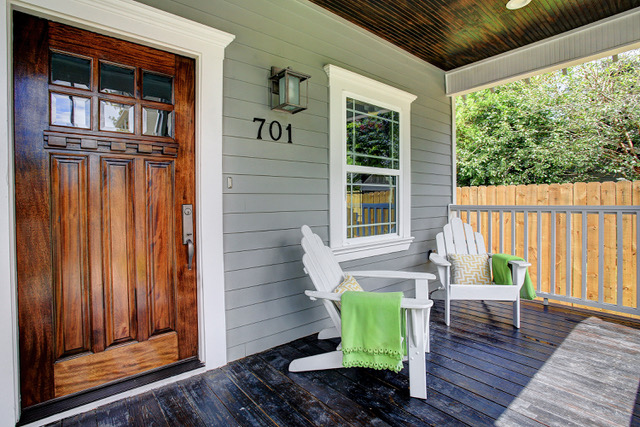 How to Choose the Best Option & Weighing Door Installation Cost
Homeowners today have more door installation options than ever before, which means you're sure to find something you'll love for your home. However, all those choices also make it easy to get overwhelmed! Note some added details about your door replacement options so you can make the right decision for your home.
First note that the terms entryway door and storm door are often used interchangeably, but a storm door is typically solid, without windows or perhaps one small window along the upper portion of the door. Storm doors are often relatively attractive and come in a wide range of colors and styles, but are designed and built for strength and durability rather than appearance.
Entryway doors offer security and insulation but are designed for maximum style. Most entryway doors are made with wood frames and boast large glass inserts, allowing lots of light into the home. An entryway door might also be curved or oversized with lots of added trim, for additional visual appeal.
Vinyl and fiberglass doors are lightweight but very durable, and offer lots of added insulation for your home. Vinyl and fiberglass are also virtually indestructible, so your new door might last for years if not decades before needing repairs or replacement.
Wood entryway and storm doors are thick and dense and also offer lots of insulating properties. Wood also has a natural look and feel that many homeowners prefer, versus the artificial feeling of vinyl and fiberglass.
One downside to vinyl and fiberglass is that these materials are extremely difficult to paint or otherwise cover. If you grow tired of a door's appearance, you might then need to replace rather than recoat it.
While choosing a wood door allows you to repaint or re-stain it over the years, that paint or stain also tends to fade eventually and especially if the door is exposed to harsh weather and sunlight. Be prepared for more maintenance and repairs if you should choose a wood door.
Steel doors offer lots of strength and security but steel conducts heat and cold and is often very heavy, especially steel the size of a home's entryway door! Many steel doors today have inside layers of foam or another insulating material, keeping a steel door lightweight and manageable and helping to block outside heat and cold.
A security door is designed and built to withstand break-ins. Many security doors have reinforced frames along with thicker deadbolts and locks than standard entryway or storm doors. You might expect to pay more for a security door than the purchase and installation price of an entry or storm door but consider this investment for homes in high-crime areas, if you have children home alone on occasion, and other such concerns.
Door Installation Cost Factors
Some factors that will affect the cost of a door installation include the material of the door, the size and weight of the door, and the complexity of the installation.
Material: Based on the type of door you select, the price of the materials will vary. For example, a wood door is going to be more expensive.
Size and weight: The size and weight of your door will also play a role in how much it costs to have it installed. A larger or heavier door will be more expensive to install.
Complexity: If your door installation is complex, it will likely cost more. This could be due to the need for special tools or an unusual installation process.
Other factors that can affect the cost of a door installation include the type of door (e.g., interior or exterior), the number of doors being installed, and the location of the installation. In general, it is best to consult with a professional door installer to get an accurate estimate of what it will cost to install your desired door.
Advantages of a New Door Installation
No matter your new door installation costs, it's vital that you invest in a new door as needed. Front and back doors are still favorite entry points for thieves and old, worn doors with warped and weak frames are far too easy to pry open! An old and worn door might also alert a potential thief that a homeowner is somewhat negligent about their home's security, making your house an even more enticing target.
Doors also add to a home's overall insulation. Thick, dense doors block outside heat and cold while keeping in your heating and air conditioning. The doorframe is also a vital part of a door's insulating factor; old doors might lean slightly or pull away from their frame over the years.
As this happens, gaps and cracks then form around the doorway. These gaps let in outside heat and cold so your home feels warm and stuffy during summer months and then cold and drafty in winter. Gaps around doorways also let out your heating and cooling, so your furnace and AC cycle on more often and you waste energy and utility costs.
Upgrading to a new door installation enhances your home's security, and especially if you also invest in a thick security frame. A new door fitting snugly inside that new frame is difficult to pry open while also blocking outside drafts and heat and better insulating your home. An updated, stylish door also improves your home's curb appeal instantly, for a fresh new look you're sure to love.
What Should I Expect for My Door Installation Project?
You can expect a professional and high-quality installation for your door project. Our team will work diligently to ensure your satisfaction with the finished product. Let's explore our step by step process below.
First, we will start by measuring the door opening to determine the best size and type of door for your needs. Then, we will work with you to select the perfect style and finish for your door. Once the door is selected, our team will deliver and install it. We will make sure that the door is properly sealed and secured, and that all hardware is properly installed. Finally, we will do a walk-through with you to ensure that you are happy with the door installation.
When to Call a Door Installation Company
A damaged front or back door is often easier for someone to kick or pry open, and especially if there are now large gaps between the door and its frame. Call a door installation company if any entryway door on your home has suffered damage and especially if someone has already tried to pry it open.
Note that a severely damaged door is not the only reason to schedule door installation for your home! If you can see sunlight coming through the gap between the door and its frame, it's time for a new entryway door. Once gaps are so large that they allow sunlight through, they're also allowing in outside heat and cold and letting out your home's heating and air conditioning.
You might also run your hand around the doorframe and note if you feel drafts or especially warm air. For an even more precise homemade test, light an incense stick and run it slowly and carefully around the doorframe. If the smoke from the incense stick wavers, this often indicates drafts around the doorframe! A new door installation will seal up those gaps and keep your home insulated.
A new door installation is also an excellent way to improve home security. Adding new locks and deadbolts to an old and worn door with a flimsy frame might be pointless, as some intruders are more likely to simply kick a doorframe away from the home itself than try to pick a lock! A security door with a thick frame bolted securely to the home and no gaps in which someone might slide a pry bar means far less risk of intruders.
New Door Installation Is Not a DIY Job
While a homeowner might be tempted to avoid door installation costs by managing this job themselves, there are many reasons why it's best to call a door installation company near you instead. One important consideration is that a door replacement requires a precise measurement. While there are industry standards for door sizes, a poor measurement often means doors that stick or swing open on their own, or that don't fit your home's entryways at all!
Another consideration is that a door's frame affects its overall function and security. A weak, worn, and crooked frame often means difficult opening and closing the door, and also results in gaps around the door, as said.
If you're planning on keeping a door's current jamb, a professional door installer near you ensures the frame is leveled as needed and bolted to the home properly. He or she might plane certain areas or use shims to build out worn spots. A door installer might also add more bolts to the frame, providing added security and stability.
A door installer might also alert a homeowner to a frame so damaged or weak that it needs replacing. A new doorframe is often cumbersome and difficult to install on your own, and must be installed perfectly straight and level for the door to open and close smoothly. To ensure a quality door installation, leave this work to the pros!
Related Questions
Can you buy a door without a frame?
You can use an existing frame or jamb but it's vital that it be level and square. It's also important that the frame be durable and in good condition, and strong enough to hold the weight of a new door.
Can you make a doorframe wider?
If you're looking to add style to your home or need a wider front door for any reason, you can make a doorframe wider provided you don't cut into a load-bearing wall without adding bracing, and you ensure you have room for needed clearance for your new door installation.